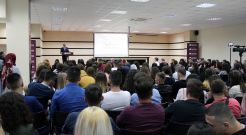 The University College Bedër opened today the new academic year 2018-2019. Present at the ceremony organized at the university premises were students, parents, academic and administrative staff, representatives of various educational institutions, and the Ambassador of Austria in Tirana, Johann Sattler.
Rector of University College Bedër, Prof. Dr. Ferdinand Gjana, during his greeting speech, expressed the willingness of the university to find students in their journey. "Today is the beginning of an important phase, during which we, along with all the academic and administrative staff, will be near you to help you in the best academic and professional formation. This year, with the new department in computer science and information technology, and in addition to the importance of English as a part of the curriculum, special attention will also be given to the inclusion of the German language through extra-curricular courses first, and then its integration into curricula of curricula ", emphasized Prof. Things.
Invited at this ceremony, the Ambassador of Austria, Johann Sattler, congratulated the students for a successful academic year. "Bedër University College is launching a new route, which will certainly be filled with challenges and with many moments of pleasure. I say this because from our cooperation within the Cultural Year Austria-Albania 2018 we have experienced a fruitful and successful cooperation with this institution. The fruitful co-existence has the foundation of communication. Given that this is communicated here at all levels and in both directions, I am convinced that professors and students, executives and administration will experience moments of pleasure and success during this new academic year, "said Mr. Saatler.
The Student Council Representative, Desara Tollia, thanked the university for the opportunities created during these study years. "Along my journey, of course, I have encountered difficulties, but with the help of the pedagogues who have been right to me and have made every situation easier, any difficulties encountered have been successfully passed."
Xhonledi Spahiu, on behalf of young students, and one of the beneficiaries of the Excellence Scholarships awarded by the Bedër University College this year, showed the reasons for selecting this university to continue her university career.
"Getting a scholarship from this institution was a special honor and pleasure for me, because of her reputation in the field of teaching. Honesty, virtuosity, and charisma are some of the virtues that follow Bedër University, which I will do my utmost to pass on to my work and life. "
In the following, new students were introduced to the composition of relevant departments as well as basic information about the university.